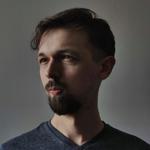 Updated by Paweł
Released on 05 Oct 2021
There's not much impressive things to boast with at this time. We've mainly focused on improving app stability and security for you. 🔐 FTP improvements, timeout fixes, UI and icon bugs, etc. 😴
Stay happy. Stay healthy! 🙌
Released on 21 Sep 2021
Features
🎉 Bol.com Offers and Orders Feeds Updated to API V5
To stay up to date and keeps your feeds running for Bol.com, we've upgraded our connection to the most recent API version 5, as required by this marketplace. We've previously used their API version 3.
🎉 Cost Data Removed
As we are migrating to new Analytics, we've temporarily decided to discontinue Cost Data. This module allowed you to import additional paid campaign performance data to DataFeedWatch Analytics.
🎉 Older Analytics Dashboard Removed
We've migrated all of you to new Analytics, and now removed the older Dashboard. Analytics is now only available in the newer, more refreshed views. It is developed in the technology allowing us to develop it further and add extra features.
Bugs
🐛 A Few Analytics Bugs Fixed
We've recently fixed bugs improving the new Analytics Dashboard. As we're now also disabling the older dashboard, we've made a significant effort to make Analytics more pleasant to use and actually functional.
🐛 Search in Combine Rule Fixed
If you were adding a new Combine rule to your mapping, you could notice that search did not work as expected, only filtering results by first letter or not at all. It is now working and filtering the result so finding and combining fields should be smooth and sound.
Released on 07 Sep 2021
Bugs
🐛 Combine Search and All Fields Tab Set as Default
After our recent update of Fields dropdown, there were a few issues in Combine option. We've fixed the search option there, and made All the default option also there. By the way, it now works otherwise when adding fields to Combine. They will appear there in the order you add them – and then you can drag and drop them.
Released on 24 Aug 2021
Features
🎉 Preview of Channel Mapping Showing What Internal Fields Include
When you create rules to decide what will appear in your channel, you often use Internal Fields (for a variety of reasons). But when you already have a rule, and you're checking it with the Preview 👁️ option, you could only see the names of Internal Fields used. Now, you get a same-window preview of what's in there. So you don't need to navigate back to your shop's Internal Fields to check it. You can unfold any Internal Field there, one by one.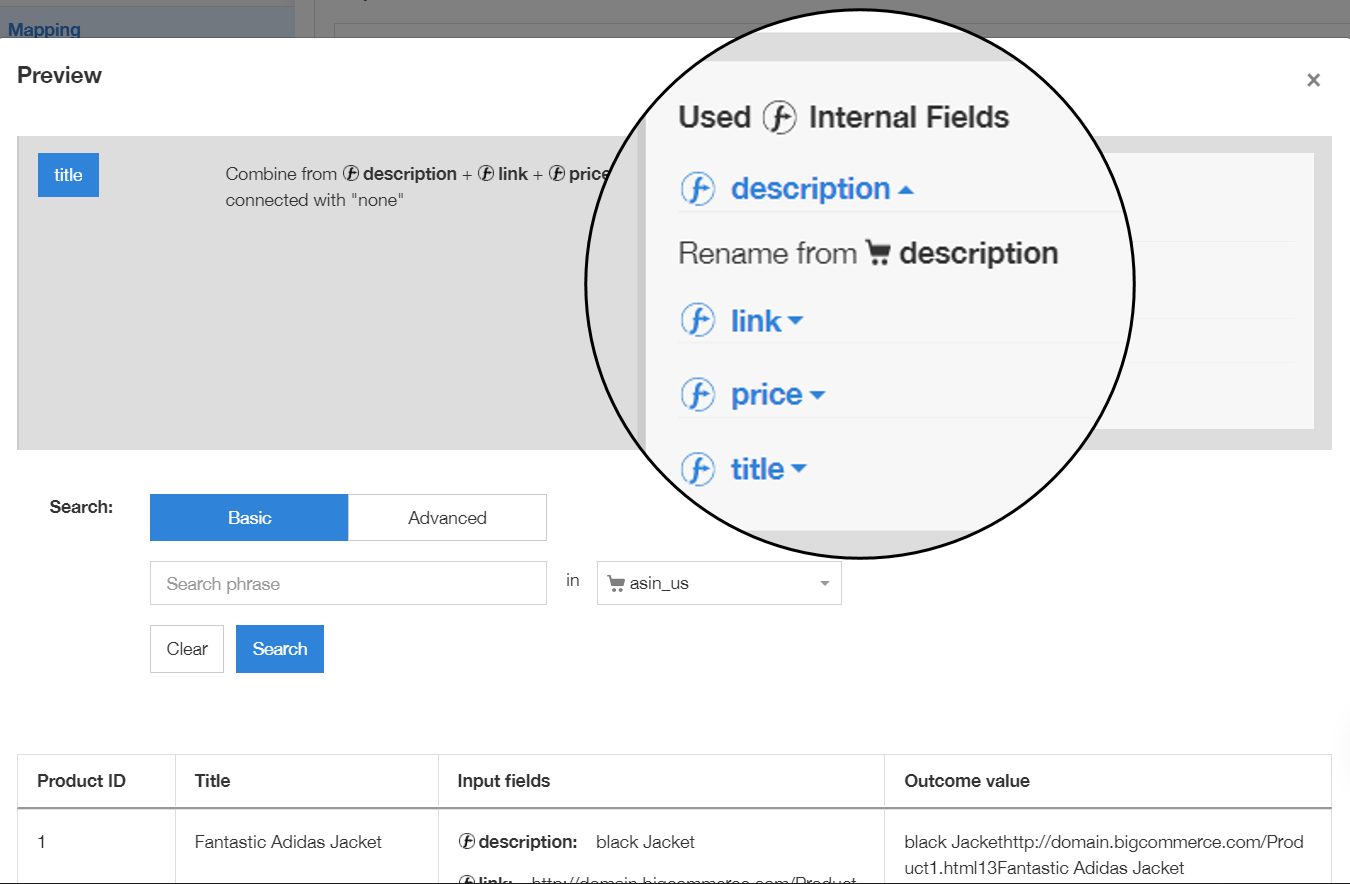 🎉 Internal Fields in Advanced Filters in Preview 👁️
Until now, you couldn't use Internal Fields to filter out products in the preview. Now, you can click Advanced Filters, and select any Input Field or Internal Field to find the product you were looking for.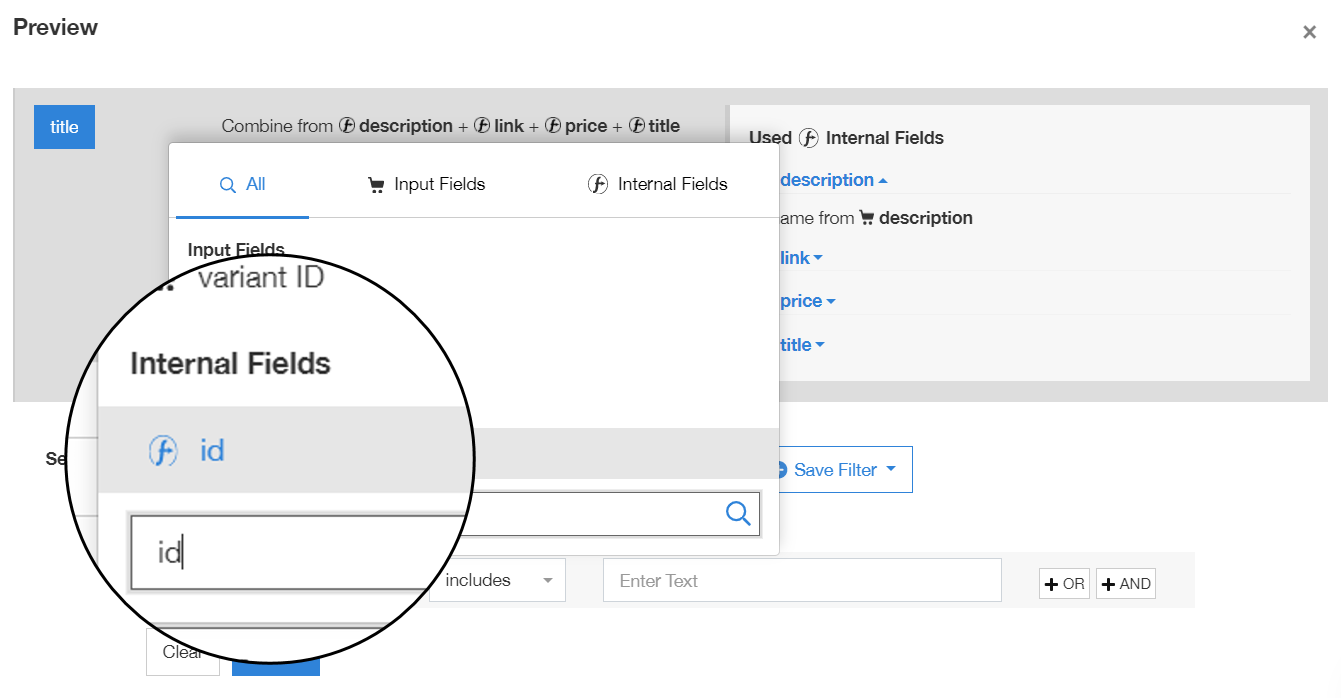 🎉 New and Improved Mapping and Search Dropdowns
The main problem to solve here was that users had hard time to find input fields in the mapping selector since it was by default set to Internal Fields, and it was necessary to switch the tab to Input Fields to find it. We've changed the main dropdown, so that all fields (Input Fields, Internal Fields, but also Date, Text Fields, etc.) are available and searchable instantly, but still grouped separately for clarity.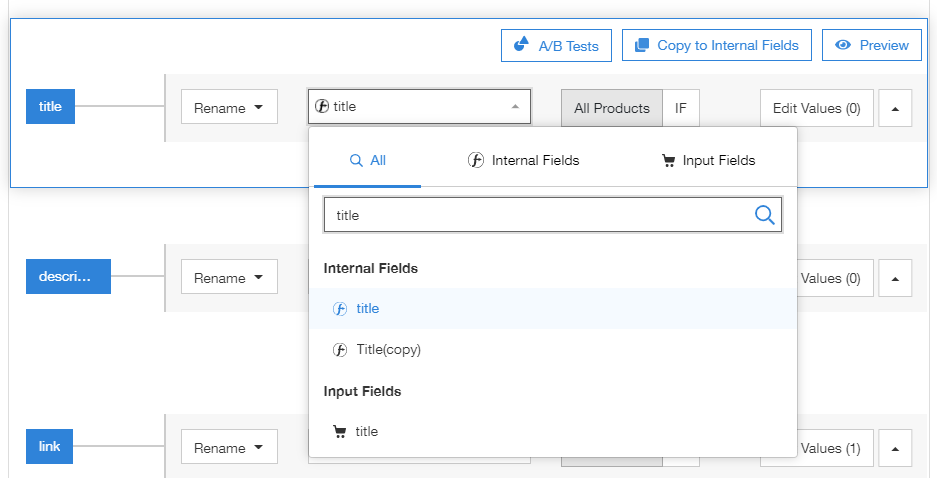 🎉 More Areas where Exclude Associated Variants is Used
We've come up with Exclude Associated Variants a long time ago, and as a feature it proved useful for many customers. Recently, we've noticed there are more and more newer functionalities, where Exclude Associated Variants could and should be applied—yet it wasn't. So now, we've extended it to exclude such products from places such as Feed Review or Marketplaces.
Channels
🌱 New Channel Added: www.pix.wine
Developed in the pandemic, Pix is the world's first wine discovery platform. Intuitive wine search engine comes with reviews and articles from wine experts.
🌱 Seznam.cz Template Update
We've updated the Seznam Template to meet the latest channel requirements. Go ahead and advertise your products on Seznam!
Bugs
🐛 Merging: Add Products Option Issue Fixed
When shop had Add Products option chosen for merging, and user added new additional feed, shop after download had the Merge status, requiring user to take an action. Add Products should be the remembered option now, which is how it should work.
🐛 Bol.com Marketplace Not Updated: Shipping and Availability Issue
There was a problem, reported by our Bol.com clients, with uploading and updating some products in Bol.com. It is now fixed, and all the products are correctly updated as they should.
Released on 10 Aug 2021
Features
🎉 Sale Price from Internal Fields Used in Channels
For most our product sources, we are creating Sale Price rules in Internal Fields for you. We just weren't using this field in your channels. Now, every time you add channels with the Sale Price field (e.g. Google, Facebook, Bing, etc.), we'll add a rule to use your Sale Price from Internal Fields. It's especially useful for sources like Shopify, where creating it may become a nightmare sometimes.
🎉 Date Unification to DD MMM YYYY Format—Completed
This time, we've completed implementing new dates format throughout the app, that is DD MMM YYYY (e.g. 27 Jul 2021). We did it to make sure all our global clients can understand the dates. Of course, you can still encounter other dates format in other communication received from our Sales, Support, and Marketing teams.
🎉 Price Watch Video
We've recorded a video for you, to have a chance to sneak peek how to setup and use Price Watch. It guides you through and showcases how useful it can be for selling more! Go to our App, and check Price Watch section for details.
Released on 27 Jul 2021
Features
🎉 Date Unification to DD MMM YYYY Format—Emails
This time, we've introduced the new dates format to all emails sent from the app. The format we're aiming to apply throughout the app is DD MMM YYYY. An example of such date is 27 Jul 2021. We did it to make sure you, that is all our global clients, understand the date correctly. We're still working on this unification, so the date format may still differ in some parts of the app. Of course, you can also encounter other dates format in other email communication received from our Sales and Marketing teams.
🎉 3dcart Becomes Shift4Shop
3dCart recently rebranded to Shift4Shop. We've therefore changed the logo and name also throughout our app. While adding a shop or editing it, you will now see the updated details.
🎉 Shopify API Upgrade
Shopify has updated its API, so we had to implement the relevant changes also on our side. This one's rather technical, and shouldn't change anything if you're already using Shopify in DataFeedWatch.
Bugs
🐛 FTP Upload Issues
We've recently spotted a problem with FTP upload for certain customer. The previously working FTP credentials suddenly didn't allow us to connect. We had to change connections settings to get it working again.
🐛 Processing Failed in Feed Review
This error appeared in Feed Review, even for correctly processed channels. There was some technical issue behind it that our tech team successfully solved.
🐛 Analytics: Cost Data Fetching Exception Interrupted Data Aggregation
Errors in getting Cost Data seemed to prevent gathering all Analytics data. When any Cost Data exception occurs, the analytics data will now still be aggregated without it. Also, an email about Cost Data exception will be sent.
🐛 Impossible to Access Incorrectly Created Channel (Error 500)
There was an issue preventing you from accessing a broken channel. Now, this error shouldn't appear, at least when you only access it. If it's still broken, try reaching out to us.
Released on 13 Jul 2021
Features
🎉 Unified Information Pills
We used to have multiple styles of showing pills across the app. What are pills? It's the rounded, pill-shaped styling around words.
Now how it looks is unified. Here's a list of some pills you can come across: fields in combine rule, category name, Updates Schedule items like times of updates or status, fields in Add Optional Field modal, Feed Review pie chart items.

Bugs
🐛 Breaking View of Internal Fields When Scrolling
Some users encountered a problem with Internal Field view, where one of the fields stuck to the top of the page.
🐛 Missing Active Item Coloring in Source Dropdown
After adding a search function to the Source dropdown on Shop Products page, the blue highlight color for an active element has disappeared. We've now added it, so it looks as intended.
🐛 Categories Dropdown Tooltips Displayed Incorrectly
Text in categories dropdown tooltips had some symbols escaped and displayed incorrectly.
Released on 29 Jun 2021
Features
🎉 Final Touch Put to Our App Unification Project
We've managed to finish one of our goals for this quarter. As you've probably noticed, we had many components unified in the last 3 months. Mapping tooltips and dropdowns for Combine rule separators were the last pieces. You can appreciate the results of our unification efforts throughout the app.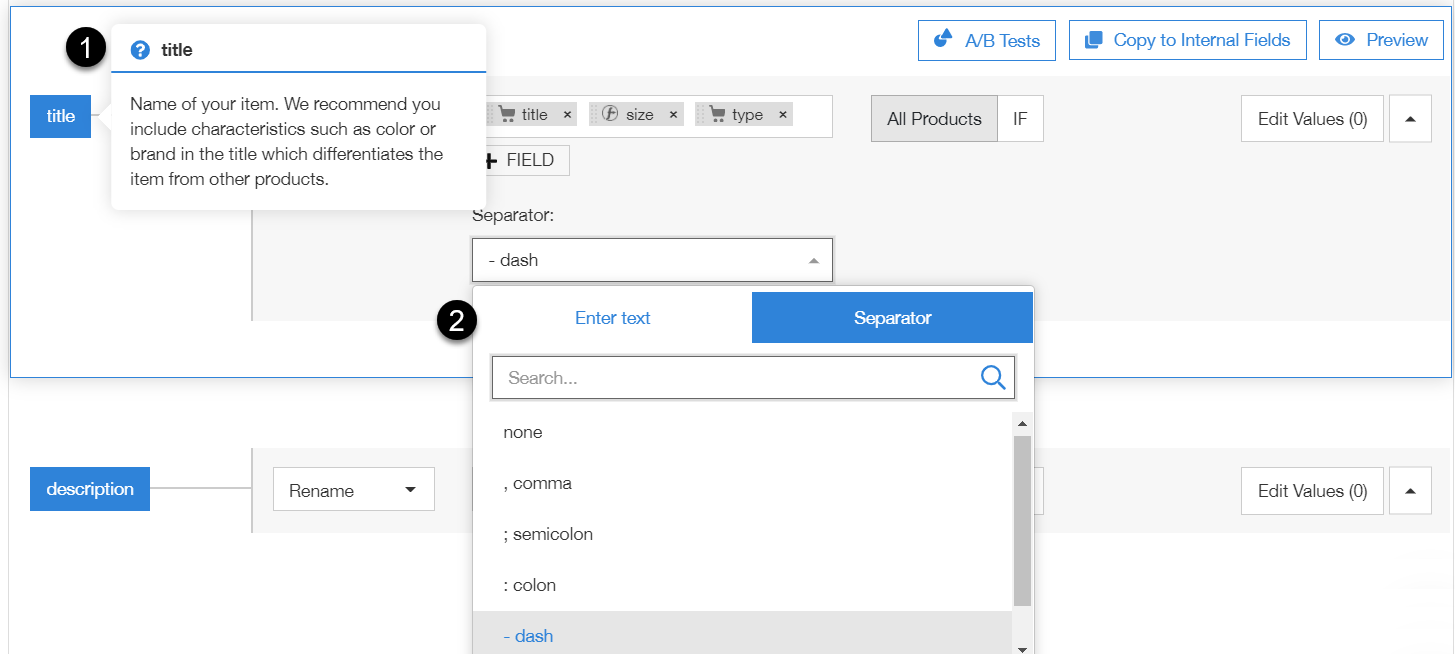 🎉 Customize Columns Visually Upgraded
Yet another visual improvement, this time in the Customize Columns component. Chosen items, on the right, are not greyed out anymore. Also, the icons are unified and refreshed. Enjoy!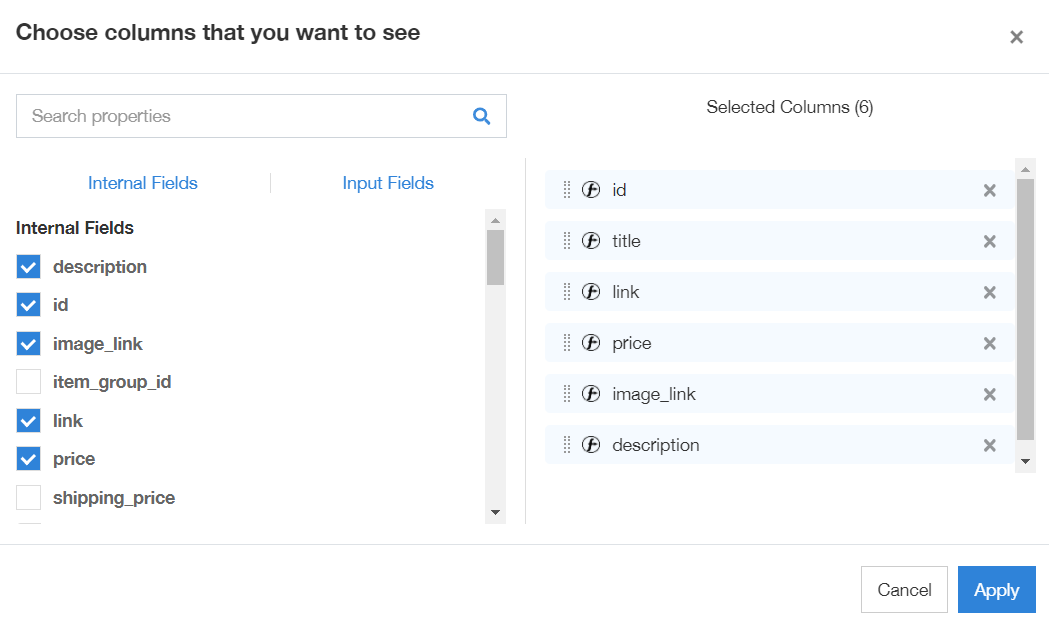 Bugs
🐛 20 UX Bugs Noticed and Solutions Implemented
Our UX Specialists noticed and traced down some issues which might have influenced your use of the app. We hope you'll appreciate these little steps taken to make the experience even smoother. And it's not our last word in this regard.
🐛 Custom Fields Gone Missing after Merging
As we've revealed, Custom Fields for Facebook Product Ads (SE) were not showing up in your Output Feed, or when checking in your Channel Products. It's now all working again as intended.
Released on 15 Jun 2021
Features
🎉 Search Boxes in Dropdowns
Finally, it's possible to search for your shop, channel, or timezone in the dropdowns. In the case of shops and channels, you can search both by their names and IDs.
Here's the list of places where you can come across them:
Copy from Other Shop in shop's Internal Fields
Copy from Other Channel in channel's Mapping page
Timezones in your shop's Updates Schedule
Sources in Shop Products and Channel Products
Channels
🌱 Amazon Marketplace for UK, Shoes and Bags Template
We've updated the Shoes and Bags Template for Amazon in UK, so you can upload such products without delay.
🌱 New Channel Added for UK: Presize.ai
Presize offers size recommendations for fashion ecommerce users. By advertising there, you can increase shop's net revenue, decrease returns, and improve trust.
Bugs
🐛 Grey Circles Appearing in Navigation for Firefox and Safari Users
We've noticed grey circles present in our navigation, at shop-level. This issue only apppeared for Firefox and Safari users. Now, we've managed to eliminate it, so you don't need to check what we meant by 'grey circles'. You won't find it anyway.
🐛 Shops Created from a File Not Refreshed after File Update
If you've created your shop from a file, you might have encountered an issue of your shop not being updated when the file is replaced with another one. We've tested and repaired it, so it will always stay up to date with your source file!
Released on 01 Jun 2021
Features
🎉 Release Notes, Academy, and Feature Request Links in the Upper-Right Menu
We've finally managed to make features important for our customers visible directly from the App.
You can now directly access:
Release Notes—meaning the article you're now reading!
Academy—the place you can watch amazing and informative videos and learn more about DataFeedWatch and all those feeds
Feature Request—external app, Canny, allowing you to share any ideas and feedback, but also skim through the ideas of other customers
🎉 Dropdowns, Modals, Statuses—They're All Finally Unified
We've managed to find the areas of our app where some of these needed some work to look like the rest of our App. We hope you'll like it when you come across some of them!
Bugs
🐛 Google Shopping Template Update
In this update, we've basically added some pre-defined values required by Google for the field excluded_destination.
🐛 Shopware Failure for Empty Description or Short Description
There was a recently reported bug appearing for some Shopware shops. As we've managed to find out, the problem occurred for the shops with empty Description or Short Description fields. Knowing the issue better, our developers managed to quickly solve it for you!
Released on 18 May 2021
Features
🎉 Copying Single Internal Field between Shops
Did you ever create a complex rule for one shop, and wondered how to replicate it in another shop? We've come with a solution! You can also copy such field to more than one shop.

🎉 Buttons and Wizards Unification
We've looked through our buttons and top 'wizard' navigation, making sure they look the same, so you don't get confused ever again.
Bugs
🐛 Between and Combine Rules Fixes
For Combine rule, there was a problem you couldn't add own text between the combined fields. It works fine now.
We've also noticed a problem occurring while saving a rule with is between option. This should also be OK.
🐛 Amazon.it Template Update
We've recently noticed that the template for Amazon.it wasn't up to date. It is now fixed and ready to use.
Released on 05 May 2021
Features
🎉 Updated Bol Content Feed Channel
As Bol has recently changed its feed requirements for Content Feed, so users can now properly add products to Bol. It is now done via API connection, so we had to develop this as a new connection method.
🎉 PrestaShop Language Versions
Now, you can get any language version of data from your shop. After you create your shop and download it, you can change the language version in Shop Settings.
This option is available only with the newest version of our PrestaShop module.
🎉 Frontend and Backend Frameworks Updates
We have updated our frontend and backend frameworks. Sounds technical, huh? It was hours and hours of work that seems mostly invisible for you, but makes DataFeedWatch more secure. By the way, we've updated some fonts and colors. Hope you'll like it!
🎉 Speeeed-up 🏎️
This feature, being actually part of our broader efforts to optimize the app, results in faster processing times in DataFeedWatch. We hope this won't go unnoticed.
🎉 Channel: Facebook Marketplace
We've added Facebook Marketplace as a new channel for US.
🎉 Channels: Upptec
You can now add Upptec channel for the following new countries: United Kingdom, Netherlands, Sweden, Belgium, Norway, Poland, Italy, France, and Spain.
Released on 19 Apr 2021
Features
🎉 Analytics Moved in the Navigation
We've moved the Analytics menu button from Other Services a little bit up. You'll now find it just below Shop Products in your shop-level menu. It relates to your shop, so the current location seems more relevant.
Google Text Ads and Price Watch will remain there, as they are separate extra services.
🎉 New Channel for Germany: Neocom
The channel Neocom was already available for some countries, but it is now also available for Germany.
Neocom helps customers find the product they need and also drive more sales and reduce inquiries with human friendly conversations. 
🎉 New Channel for United States: Reelevant
This channel was until now available for multiple countries. Now, you'll also find it for US.
Reelevant is a live email intelligence technology. It analyzes the context and the behavior, delivering up-to-date messages and displaying always the most relevant content.
🎉 New Channel: Upptec
This channel is new to DataFeedWatch, and immediately, you'll find it in the list for many countries.
Upptec allows content claim automation for the insurance industry.
Bugs
🐛 Shopware Download Failed
We're recently encountered problems with integrating some Shopware shops. This issue is fixed now, so this should not happen again in the future.
🐛 BigCommerce Review Pending Error
There was a recently reported issue with some shops integrated as a BigCommerce platform. We've fixed this now, so the shops affected now work again. We're sorry for the inconvenience.
Released on 06 Apr 2021
Features
🎉 Suggestions Available Also for Optional Fields Section in Internal Fields (for Other Sources)
Suggestions will now appear along with the suggestions we already provided for the required fields. This applies for Internal Fields of your Shop, provided that it is added as other source (that is from a file, and not as an integration).
🎉 Seznam.cz Now Allows Adding Unit Sub-Node to Custom Fields
Our customers needed the node <UNIT> being added to the <PARAM>. Now, this is already possible for Seznam.cz users.
🎉 Support Team Will Copy Token for Magento, Magento 2, and Shopify
Sometimes customers wanted to add the same shop twice (for example, one shop includes variants, the other parent products only).
Previously, when copying shops, the copying could get stuck, as the token couldn't be copied. Thus, we had to wait for our tech team to solve such issues. Now, you won't have to wait.
🎉 New Pricing for New Customers
We've decided to increase our prices a bit. It's for new customers only.
Here are our new prices:
Monthly plans: Shop: $59, Merchant: $79, Agency: $239
Yearly plans: Shop: $590, Merchant: $790, Agency: $2390
Bugs
🐛 Some Images Shown as a Link, without Image Preview
Images were sometimes displayed as a link in Show Products section or Product's Details page, instead of the image preview you'd expect.
🐛 Jumping Number of Products in Woocommerce Shops
There was a recently reported issue with the number of products in your shops integrated as a Woocommerce platform. We've fixed this, so none of this happens again. You're safe now.
Released on 22 Mar 2021
Features
🎉 Field addtional_image_link Now Limited to up to 10 Images for Google Shopping Channels
You've reported that in our Google Shopping channels it was possible to add more fields that Google actually accepted. So, we've decided to fix this one, and ta-da, you'll avoid issues in your Google Merchant Center.
🎉 Dates Unified to More Global Format
We've now started to unify the way of showing dates across our app. It'll take some time, but you may see a new date format (in some parts of the app), and we hope this way we're making it less confusing for both US, and the rest of the world. 
The new date format: day, three-letter month abbreviation, year (e.g. 4 Jun 2020, 15 Dec 2021).
🎉 Power Up for our Support Team with Administrator Options Improved
Now, our Support Team got a new tool, so specific requests will no longer need to wait for our Tech Team to handle. These include such areas of our app as: merging, address, credentials. Hopefully we'll be ready to help you more efficiently thanks to this.
🎉 VidaXL Available for US and the Netherlands
VidaXL requires two feeds, and we have one merged feed to add. Therefore, there are some fields in the mapping that are quite similar to each other. This may seem odd, but it'll work just fine. You'll find all the details in field descriptions.
The template is available for US and the Netherlands, but the channel works in all the countries throughout Europe, and in Australia. It is universal and doesn't differ for individual countries. You just need to use the relevant currency and language.
Bugs
🐛 Impossible to Add Optional Fields on Google Promotions Tab
You'll now add any Optional fields, anywhere, and any time you need it.
🐛 Download Fixes for BigCommerce
Variants are now always downloaded correctly.
🐛 Amazon Beta Listing 2.0 Fixes
- In the mapping, the logic of add delete rule changed. Now, users can use static value ignore for products not sent to Amazon.
- API calls limit issue fixed, downloading more than one report at the same time will no longer block your Amazon account.
- SKU bug fixed. When SKU changed a couple of times, the app was mapping the first SKU that users chose.
Did this article help you solve the problem?